Event Gallery

Acceleration/Incubation - Early Stage Entrepreneurs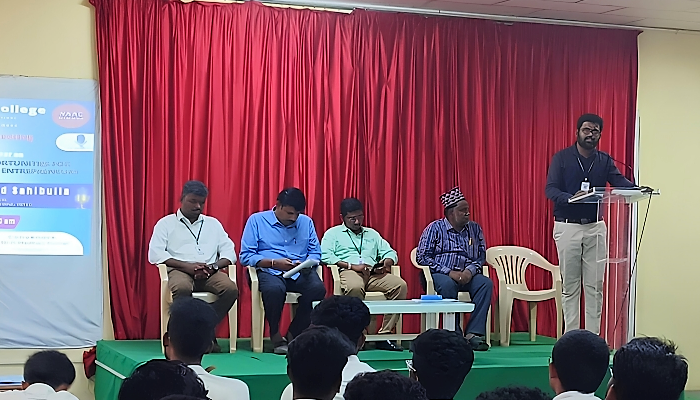 The Department of Civil Engineering, in collaboration with the IIC-PETEC Cell, hosted an enlightening one-day seminar centered around the theme of "Accelerators/Incubation - Opportunities for Students & Faculty - Early Stage Entrepreneurs." The event was held on 25-08-2023 at Block C Seminar Hall, and it witnessed a convergence of minds eager to explore the nexus of academia and entrepreneurship. The seminar commenced with an inaugural session that set the tone for the day's proceedings. Mr. Mohamed Althaf, III year Civil Engineering student recited qirat, followed by Tamil Thai Valthu. The seminar witnessed the gracious presence of the Principal, who felicitated the gathering.
Mr. T. M. Mohamed Usman, Head of the Department of Civil, who extended a warm welcome to all attendees. His opening remarks emphasized on the significance of bridging the gap between academia and entrepreneurship to drive innovation and growth. The introduction of the guest speaker was eloquently carried out by Mrs. Reshma Raj,AP/Civil. Her introduction shed light on the achievements and accolades of Dr. S.M. Mohamed Sahibulla, Assistant Professor in the Department of Civil Engineering. Dr. Sahibulla's academic journey intertwined with entrepreneurial accomplishments made him an ideal guide for the day's discussions.
The highlight of the seminar was the insightful address by Dr. S. M. Mohamed Sahibulla himself. His presentation delved into the characteristics that define an entrepreneur, drawing parallels between academia and business. With a wealth of experience as both a professor and an entrepreneur, Dr. Sahibulla provided invaluable insights into the possibilities that accelerators and incubation programs offer. His talk also highlighted on current government schemes that support budding entrepreneurs on their path to success. The event reached its conclusion with a vote of thanks delivered by event coordinator Mr. Ruban Daniel, AP/Civil. His expression of gratitude extended to the organizers, participants, and all those who contributed to the success of the seminar.
The day's discussions and interactions were summed up, leaving attendees inspired to further explore the realms of innovation and entrepreneurship. In conclusion, the one-day seminar succeeded in its mission to ignite discussions, foster connections, and inspire participants to embrace the opportunities that lie at the intersection of academia and entrepreneurship. The collaborative efforts of the Department of Civil Engineering and the IIC-PETEC Cell ensured that the event was a resounding success, leaving a lasting impact on all those who attended.