Event Gallery

CARNIVAL 2019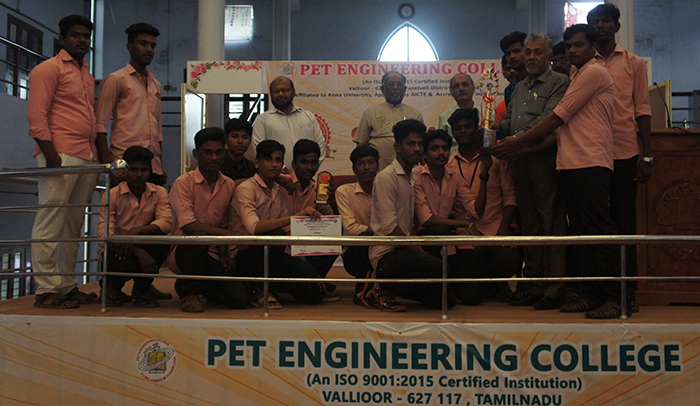 An inter-collegiate competition was held exclusively for polytechnic colleges at PET Engineering College on 18th and 19th of December 2019. Prof. R. Kalaiselvi, HOD, Department of Electrical and Electronics welcomed the gathering.
The Principal Dr. N. Mohamed Sheriff delivered the presidential address. In his address he emphasized that the students should make use of this opportunity to expose their talents. The Chairman, Prof. P. O. J. Lebba highlighted on the need to adopt "survival of the fittest" adage of the day. Participation in various competitions is indeed imperative to excel in the job market. The Principal of PET Polytechnic college Mr. R. Kamaraj felicitated the gathering.
Mr. N. Haja Mohideen, Managing Trustee, Mr. S. Khaja Mohideen, Secretary and Mr. S. M. Jamaludeen, Treasurer of Popular Educational Trust were the guests of honour. Various Co-curricular and extracurricular activities like Digital design, connexion, Quiz, Mime, Photomania, Cricket, Kabadi and Badminton were held and the students participated with zeal and enthusiasm.

Students from more than fifteen colleges participated in the various events. In the valedictory session prizes and certificates were distributed for the winners. The overall championship was bagged by JEYARAJ ANNA PACKIYAM Polytechnic Nazrath. The Second Place was won by PET Polytechnic.
Prof. P. Euguine Paul of EEE department proposed the vote of thanks. The arrangements for the event was made by Prof. R. Kalaiselvi, HOD/EEE and Prof. M. Alwin Joe, HOD/Mechanical engineering.