Event Gallery

18th Graduation Day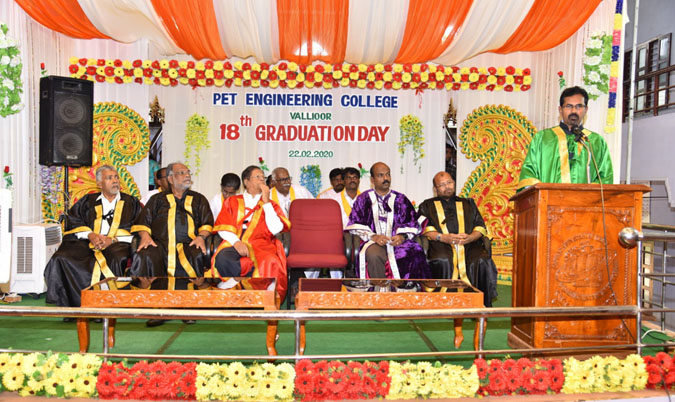 The 18th Graduation Day was celebrated on 22nd February 2020 with splendid grandeur at PET Engineering College, Vallioor. Prof. P. O. J. Lebba, Chairman, Popular Education Trust presided over the function. The Vice Principal Dr. K. Madhan Kumar welcomed everyone and gave a panoramic view of the activities of the institution.
The Chief Guest Mr. Kenneth Jeyseelan, AGM - Human Resource, Learning & Development, Tata Consultancy Services, Chennai, delivered the graduation day address. In his address, he stressed that a true engineer has the capability to rule and chisel the world. Engineering profession is not confined to seeking job alone but they have the acumen to create employability. He also emphasized that creativity should be diverted towards innovation and problem solving. Further, he reiterated that the primary concern of an engineer is to identify the problem in the society, solve the problem and become successful entrepreneurs and successful human being.
222 Students from various branches of B.E., M.E., M.B.A and M.C.A degree courses were conferred with the degrees. V. Amala of MCA department was honoured for securing the 22nd Rank in the University. Mr. N. Haja Mohideen, the Managing Trustee, Mr. S. Khaja Mohideen, the Secretary, Mr. S. M. Jamaludeen, the Treasurer, Popular Educational Trust, Trustees, staff and students of various Departments and parents were present during the function. The Coordinators of the Graduation Day function Dr. S. Babu Rangarajan HOD of CSE and Prof. M. Petchikkan HOD of Civil Department made necessary arrangements for the programme.