Event Gallery

International Conference on Emerging Trends in Engineering, Management and Applications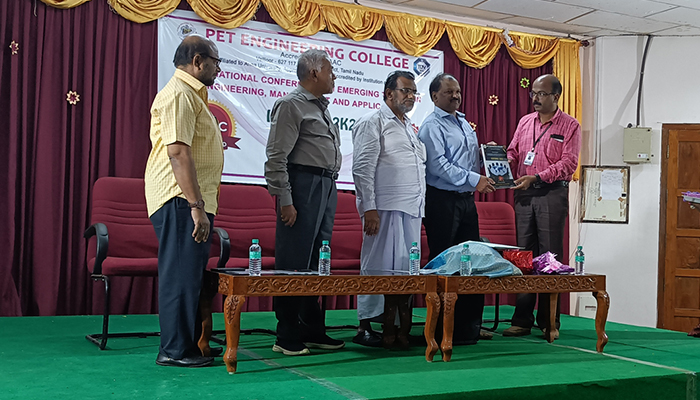 The 6th International Conference on Emerging Trends in Engineering, Management and Applications (ICETEMA- 2K22) was held on 10th June 2022 at PET Engineering College, Vallioor. It was organized by CSE, ECE, EEE, MECH, MBA and MCA Departments. Ms. C. Amritha, of final year Electronics and Communications Engineering welcomed the gathering.

Dr. K. Madhan Kumar, the Principal of the college delivered the presidential address. He congratulated the staff and students for organizing the conference in a beneficial manner and asked the delegates to present their projects and to estimate their own research findings and presentation. He emphasized that such conferences ignites the young minds and enables one to pursue higher studies.
Mrs. C. Rekha, HOD of Electronics and Communication Engineering Department gave an introduction about the conference. Ms. S. Tamilarasi a final year computer science and Engineering student introduced the Chief Guest to the audience. Dr. J. Ansari, Chief Scientist & Head, CSIR-NIIST was the chief guest for the conference. He explained the work flow of the research process. He gave guidelines for the future researchers. He appreciated the march of the Institution towards excellence and wished for further progress. In his Special address he remarked that technology is inter connected and gave an insight on the current trends in Engineering focusing on AI, Robotics, Machine Learning and software Management.
The proceedings of the conference was released by the principal and the first copy was received by the chief guest. The Managing Trustee Mr. A.Shahul Hameed, Secretary Mr. S. Khaja Mohaideen, Treasurer Mr. S. M. Jamaludeen felicitated the gathering.
Dr. T. Jeya Head of the Department of Electronics and Communications Engineering, CSI, Institute of technology Dr. P. Krishnakumar, Associate Professor V. V. College of Engineering chaired the different technical sessions. A total of 228 papers were received and nearly 169 Participants including Professors, Research Scholars and PG Students from various colleges participated in the conference and presented papers. The Principal distributed the certificates to the participants and presented the Best Paper award. Mr. A. Anton Jeyan of final year Mechanical student proposed vote of thanks.