Event Gallery

Online Workshop on Career Educational Growth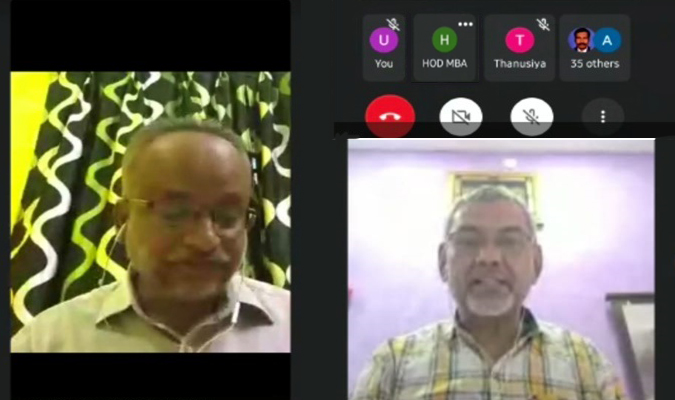 Four days Online Workshop on "Career Educational Growth" was organized by the Department of Management Studies, PET Engineering College, Vallioor from 25-11-2020 to 28-11-2020. Mr. Neyamathullah H M, Soft skill trainer, freedom hub, Chennai was the resource person for this workshop. Nearly 70 students registered and 52 students participated in the workshop.
The inauguration function was held on 25-11-2020 at 10.15am. Mr. K. Aswin Kennedy Assistant Professor, MBA, delivered the welcome address. Dr. A. Jalal, Professor & HOD of MBA welcomed the chief guest through his speech, also he invited the Faculties, and Professionals and students from various disciplines. Dr. K. Madhan Kumar, Principal, of our College helped us in bringing out the programme to a successful manner.
The resource person started the session by explaining the introduction of successful career planning. In the afternoon session the resource person explained the education for sustainable development goals: learning objectives.

On the second day the resource person explained the Career Guidance and Public Policy, he listed down more than fifteen roles/designation currently being practiced in the core companies and in the afternoon he explained about Career Development Resources their skill set requirement, companies name, job responsibilities.
The third day the resource person started the session by explaining the Professional Development and explained the career growth ladder and in the afternoon he demonstrated the changing needs in the education for the future with few examples.

The fourth day the resource person explained about choosing the career path. He emphasized on the importance of right mix of knowledge, attitude and additional skills for a successful career.
The valedictory function was held
Mrs J. Anna Thangam proposed to vote of thanks and our department staff Ms.J.Uma Bharathi, Mrs.V.Vijaya Ramya,Assistant Professors carried out all the various necessary arrangements for the programme. Some of the participants expressed their experiences in the workshop.
Program Objective

Provide exposure to potential careers and jobs.
Help students make the connection between school and the workplace.
Inform career planning.
Program Outcome

Students will be able to list at least one major/career. Graduating students will have participated in career-related experience part-time jobs, internships, clinical rotations, student teaching, job shadowing etc.
Knowledge acquisition, construction, integration and application.
Identify and research a wide variety of career fields and opportunities
Cultivate a professional network and engage in informational interview
Evaluate the environmental fit of a variety of work settings and roles.