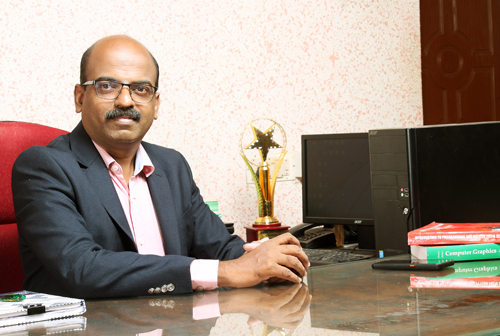 Dr. Madhan Kumar K, M. E., Ph.D.
PET Engineering College is a premier educational Institution with remarkable academic achievements. It is evident from the Anna University ranks that are obtained by the students every year.
We provide the necessary platform to many aspiring youth of this region to become very enthusiastic engineers, so that they could shine in this competitive world. We also organize various workshops on current technologies in association with reputed industries to impart the necessary skills that are needed for engineering professionals. These workshops enhance the theoretical concepts learnt by students with hands-on practical session and provide an outline about many emerging technologies.
Further our student chapters like SAE INDIA, IEEE, IE(I),IETE,COMPUTER SOCIETY OF INDIA, FACEAT, MATHS CLUB, and RENEWABLE ENERGY CLUB develop in them an urge to keep them update on the latest trends and to improve their technical skills. ROTARACT CLUB, NSS, YRC and LITERARY ASSOCIATION help them to improve their social and communication skills. The wonderful rapport and healthy relationship between the academia and various companies proves to be a benefit to the Institution. The College has Memorandum Of Understanding (MOU) with ICTACT, EMC2 Academic Alliance, CISCO Networking Academy, Oracle Academy, M/S HCL, AUTODESK and Ulektz.
Our students have excelled not only in the field of academics, but also in the field of sports. Industrial visits are also organized every year to encompass practical knowledge.
It is no wonder that this Institution provides a serene, pleasant and peaceful environment to the students which facilitates the teaching-learning process and serves as a boon to the student community.