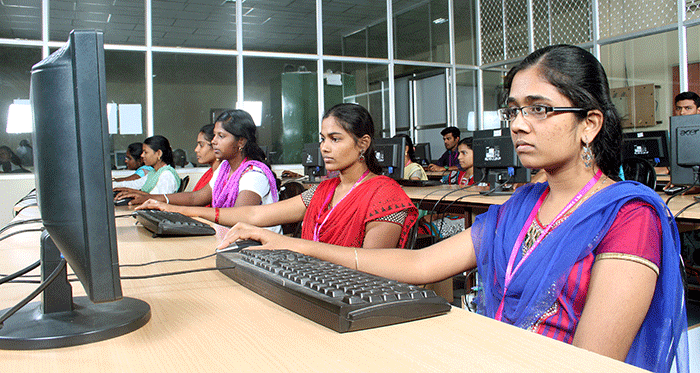 Requisite laboratories for programming, Data Structures, RDBMS, Graphics and Multimedia, Computer Hardware, Internet Browsing etc. are established.

Good infrastructure facility provided with more than 600 computer systems, a number of them with high and PIV systems, with IBM and HP Servers cater to the computing need of the different Departments.

A well equipped research laboratory with the latest HCL PCs with 2.8 GHz processor and an IBM Dual Xeon Processor Server is established to help final year students to carry out their projects within the campus.

The Network Laboratory is equipped with Cisco routers and all the buildings in the Campus to connect using routers, switches and media converters as a single corporate LAN.

Networking helps to share information and resources in the entire Campus at any time.

The network is provided with VPN firewall to protect the network from anonymous threats.

Licensed software such as Basic, Fortran, Borland C++, Visual Studio, Visual Basic, etc . down to all Multimedia software Adobe, Oracle 9i, NT Server, SCO open server, M.S Server 2003, Rational suite, Visibroker, CORBA/J2EE, DB@,etc.

Operating Systems like- Windows98, Windows XP Pro, Unix and Red Hat Linux are used in all labs.

Multi-user licences are also provided for the application software and operating systems.