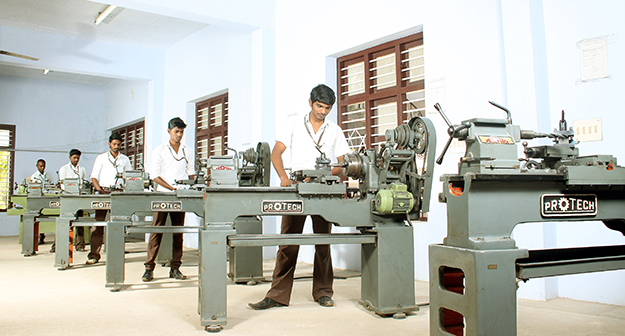 A number of laboratories from basic engineering workshops, strength of materials, machines shop with heavy duty lathes, special machines, hydraulic machines, heat & mass transfer, IC engines, dynamics, etc.

To sophisticated CAD/CAM, mechatronics, stream turbine, metallurgy, metrology, etc. are available to import in-depth training to the students.

Licenced software like edgeCAM, solidEdge, femap with NX-Nastron, with multi licenses, CNC Lathe, CNC Milling Machine and high end computers available in the laboratories help kindle the creative genius of the students.

Apart from syllabus oriented equipment in Labs, additional equipment like wind tunnel, compressor, A/C Systems, etc. are made available with a view to help the students breathe life into their conceptual ideas to become concrete projects.

These laboratories have amply proved theie worth in helping our students to design innovative prize winning projects.

The research activities include Composite materials, NANO Composites and Combustion Kinetics.